---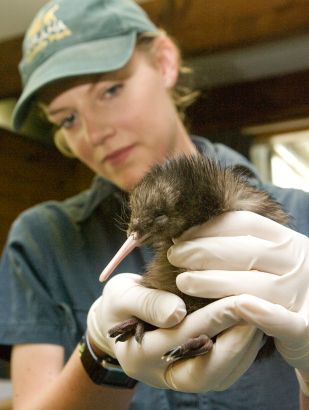 Thank you for the interest in employment opportunities at Orana Wildlife Park. The zoo industry in which we operate is very dynamic and we seek passionate people to work as part of our team. Any position vacancies we have are listed below.
 You may also be interested in Volunteering at Orana Wildlife Park.
---
Board co-option opportunity
Set in 80 hectares, Orana Wildlife Park is New Zealand's only open range zoo. The Park is a self-funding charity that also raises 100% of capital project funds. The zoo is internationally respected for its contribution to managed breeding programmes for threatened native and exotic species. Conservation education, especially of school children, is a key focus.
 
The Orana Wildlife Trust Board is comprised of seven members (including the Park's Chief Executive) and is responsible for policy and governance of Orana Wildlife Park. The Board seeks expressions of interest from suitable candidates for co-option to the Board as provided for in the Trust Deed. It is envisaged that the successful candidate will be appointed to the full Board as existing experienced Board members step down over the next two to three years, in  accordance with the succession policy. 
The key attribute sought in the successful applicant will be sound prior governance involvement along with other skills and professional experience that will add value to the Board table. Legal knowledge may be considered an advantage.
This voluntary position is for a duration of 12 months (renewable). The Board meets four times per year. Meetings are held in the evenings commencing at 5pm. 
All expressions of interest must include a letter of introduction and a full CV. It must be submitted by 31 May 2016 to: PO Box 5130, Christchurch 8542 or info@oranawildlifepark.co.nz.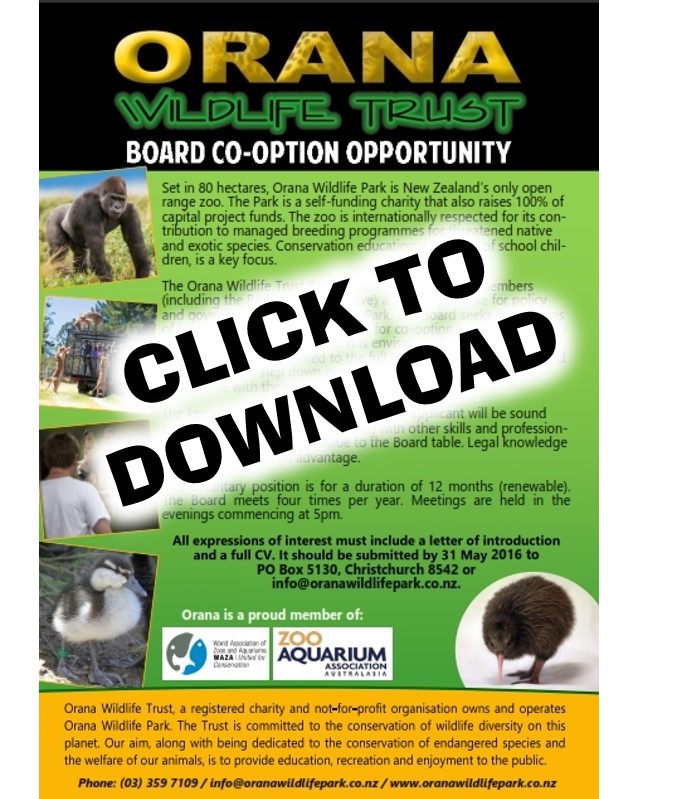 ---
zoo school teacher
Are you an innovative teacher seeking new challenges in an awesome environment? We are offering a unique opportunity in an exciting educational setting for qualified teachers to join our successful team - teaching positions like this don't come around often!  We are seeking suitably qualified teachers to join our relief team to meet the increasing demand for education programmes.
Set in 80 hectares, Orana Wildlife Park (Christchurch) is New Zealand's only open range zoo. The Park is home to nearly 400 animals representing over 70 different species; the focus of our collection is New Zealand native fauna and African savannah wildlife. Zoo School education programmes support the Parks captive breeding programmes with crucial conservation advocacy. Orana Wildlife Trust is contracted by the Ministry of Education to provide curriculum support programmes at Orana Wildlife Park to students from throughout the Canterbury region and beyond.  We are dedicated to providing interactive, quality educational experiences that cannot be replicated in a normal classroom setting.
This position requires innovative, qualified, primary or secondary school teachers who enjoy working with students of all levels. Being interested and passionate about conservation and ecological issues is, of course, a prerequisite for this position. Training and support will be provided by a skilled, experienced and knowledgeable team of educators.
We are seeking enthusiastic, hardworking people with a professional attitude, sense of humour and creative flair, who possess the following skills and attributes:
Formal teaching qualifications.
A broad base of experience as an educator and up-to-date curriculum knowledge.
Ability to deliver education programmes to students from N.E.—Year 13.
A high level of communication skills.
A great team member.
Apply now! We invite you to contact Orana Wildlife Trust by telephone (03 359 7109) or email (info@oranawildlifepark.co.nz) and request an application pack. All applications must be submitted on the official application form included in the pack by 5pm, Friday 24th June 2016 and should be emailed to: info@oranawildlifepark.co.nz or posted to: The Education Manager, Orana Wildlife Park, P.O. Box 5130, Christchurch 8542.Our team will review applications as they are received.