---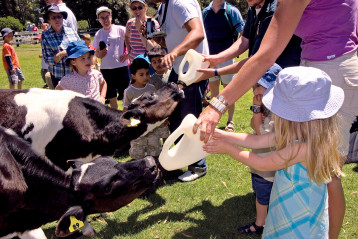 Orana Wildlife Park is all about getting people up close and personal with the animals. Our Farmyard is the perfect example of this. Park staff are committed to inspiring people, particularly children, to take an interest in animals and the environment and the farmyard helps to deliver on that aim.
Located opposite the Lion Habitat and alongside the Native Fauna Section, the Farmyard is an absolute key part of the Orana visitor experience. Visitors can meet all sorts of wonderful, friendly, domestic animals. The focus of our Farmyard has recently altered to be based on more interesting rare/heritage breed animals.
At 1:00pm each day, a scheduled Farmyard Feed occurs and this is your opportunity to help our staff feed some of the animals but also interact with the people who work with the animals. Kids in particular love this area of the Park so make sure you pay the Farmyard a visit during your trip to Orana Wildlife Park.