---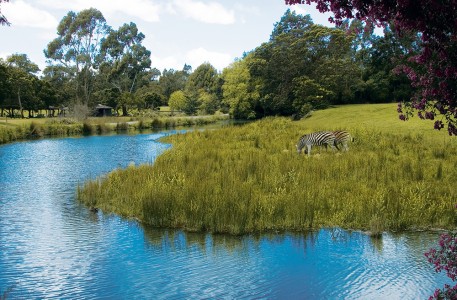 Orana Wildlife Park is blessed with an attractive and varied bird habitat, which is home to many wild birds. The artesian waterways around the Park are teeming with rainbow trout and are of importance to many New Zealand native and migrating bird species. Paradise shelduck, pukeko, grey teal, New Zealand kingfisher, welcome swallow and New Zealand scaup along with a locally important breeding population of Australasian coot are all resident on and around the waterways. Pied stilts also find the environment much to their liking and can often be seen wading in the shallows in the waterways throughout the Park. Many species also frequent the Park seasonally, such as New Zealand shoveler, white-faced heron and Canada geese.

In the areas of Orana Wildlife Park where native trees have established, it is common to see fantails and grey warblers flitting through the bush. Sightings of bellbird and shining cuckoo are also known to occur.
In addition to birdlife, the Park is home to many other New Zealand native creatures. Two species of lizard, the common skink and spotted skink, also live and breed on the Park's grounds along with weta, stick insects and an abundance of other native invertebrates.