---
GIRAFFE CALF ON DISPLAY
Our beautiful giraffe calf Jasiri who was born at Orana in October 2021 to mum Shira is now on permanent display after recovering from a leg fracture.
He has been busy exploring his outdoor enclosure with his mum and aunts.
At three months old he is consuming 12L of milk a day he is a fast growing, not so wee boy at over 6ft tall.


The team are monitoring his leg closely and are really pleased with his progress as it was a challenging fracture to manage, he is a wee trooper.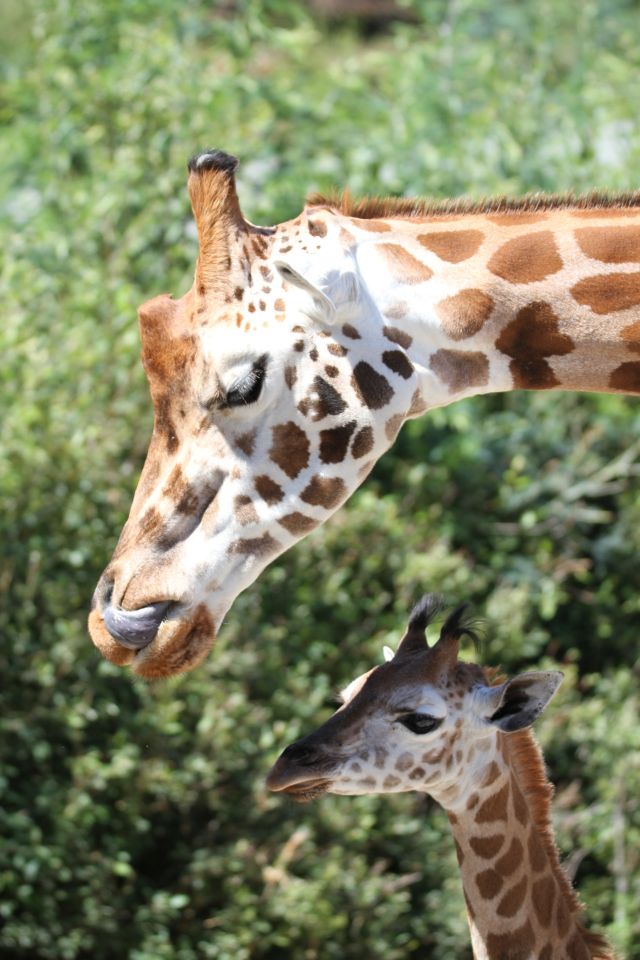 ---
Festive themed fun day at the zoo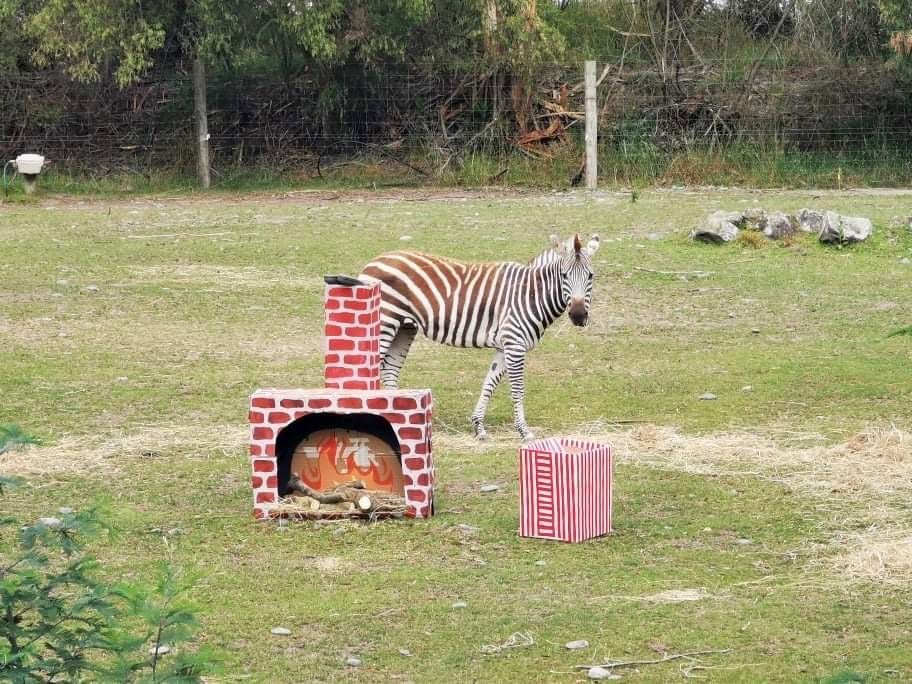 Orana Wildlife Park's busy elves are preparing a cracker day to celebrate the festive season on Friday 24 December. The zoo's good animals will each receive their Christmas present one day early to enable visitors to be part of the fun. This is the Park's 11th annual staging of this popular event.
Head Elf, Maddy Hodge, says: "our team are very excited to share this special day with visitors and spread the Christmas spirt. We love this event, it has become a really popular day for staff, animals and visitors and is an especially exciting way to pass away the hours ahead of the big day!"
"We've spent weeks gift wrapping some amazing treats for the animals and cannot wait to see the variety of unwrapping techniques utilised! Monitors will munch tasty morsels, kea will artfully destroy their presents and lions will roar into their gifts. There will also be some special appearances including an appropriately placed sleigh and chimney. It will be an exciting day for all".
"We wish everyone a very Merry Christmas", concludes Maddy. Orana is closed on Christmas Day and is open every day from Boxing Day.
Orana Park treats the animals to Christmas gifts they can eat | Stuff.co.nz 
---
World first hip replacement for orana's tasmanian devil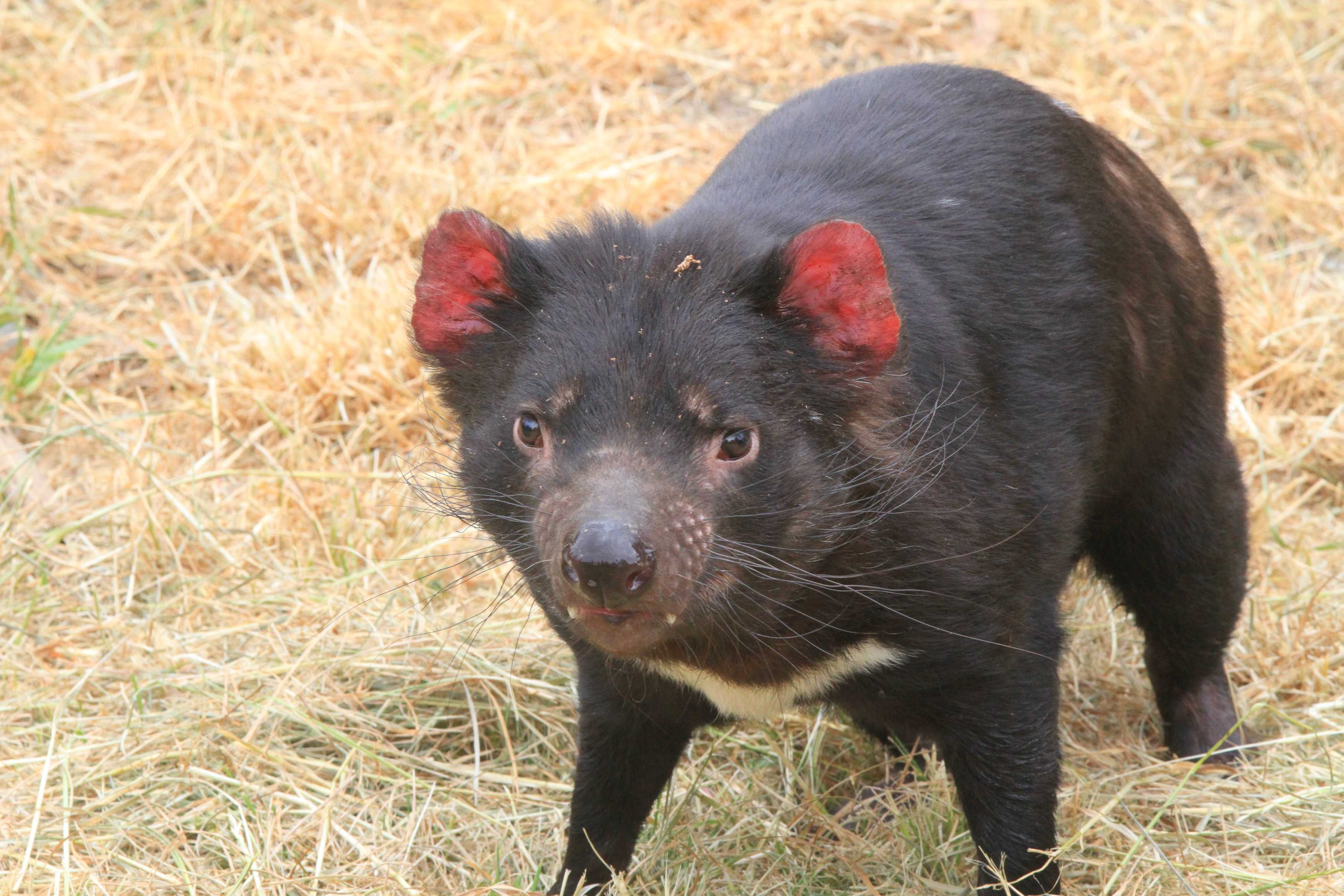 Talei, a 3-year-old Tasmanian devil, is the first of his kind to have had a full hip replacement! Dr Warrick Bruce, a specialist orthopaedic veterinary surgeon performed the ground breaking surgery at Rangiora Vet Centre, Orana's vet.
Orana's Exotic Species Manager, Rachael Mason, says: "Talei is a middle-aged devil and suffered from a deteriorating hip joint causing severe pain and lameness. Our animal care and veterinary team implemented an initial treatment plan to manage the pain. Subsequent x-rays revealed a grossly deformed hip joint which carried a poor long-term prognosis for Talei. Ongoing pain medication would not effectively manage his condition, thereby compromising his life expectancy."
Orana's Vet, Ben Davidson of Rangiora Vet Centre, adds: "The damage to his joint was severe where the outer layer of cartilage had eroded away meaning his joint was essentially bone rubbing on bone causing extreme discomfort. After consulting with our specialist surgeon, Dr Warrick Bruce, it was agreed that the best solution for Talei would be a full hip replacement, giving back a fully active and pain free life."
"Dr Bruce is one of the few surgeons experienced in hip replacement surgery in animals in New Zealand. He was able to source the specialist instruments and implants required from the USA. The operation took place at Rangiora Vet Centre and progressed perfectly. Talei has experienced a smooth, text-book, recovery from the surgery. We are delighted that he has responded so well to his new joint", says Ben.
"The operation has been a very positive change for Talei. He is no longer on pain relief and has full use of his hip. Talei is a shy animal and is most active at night. Since being transferred from our hospital room back into his exhibit, we have tracked his overnight movements with night vision cameras and know that he is investigating his habitat, climbing structures and is behaving like a perfectly healthy devil. This operation has dramatically enhanced his quality of life", comments Rachael.
This surgery has significant implications for the management of endangered species. Talei has proven that this is a viable option and a fantastic alternative to long term pain relief or euthanasia. "Obviously not all animals with a sore hip require a hip replacement but there are cases where this is the best option. A specialist veterinary surgeon is trained to recognise the cases where this surgical treatment will provide a favourable outcome", concludes Ben.
Talei was transferred to Orana Wildlife Park from Devils@Cradle in 2019 as part of the Save the Tasmanian Devil (STDP) Ambassador Programme for these endangered carnivorous marsupials. Orana first joined STDP in 2014. "It is a privilege for us to care for these amazing animals and raise awareness on the plight of devils", says Rachael.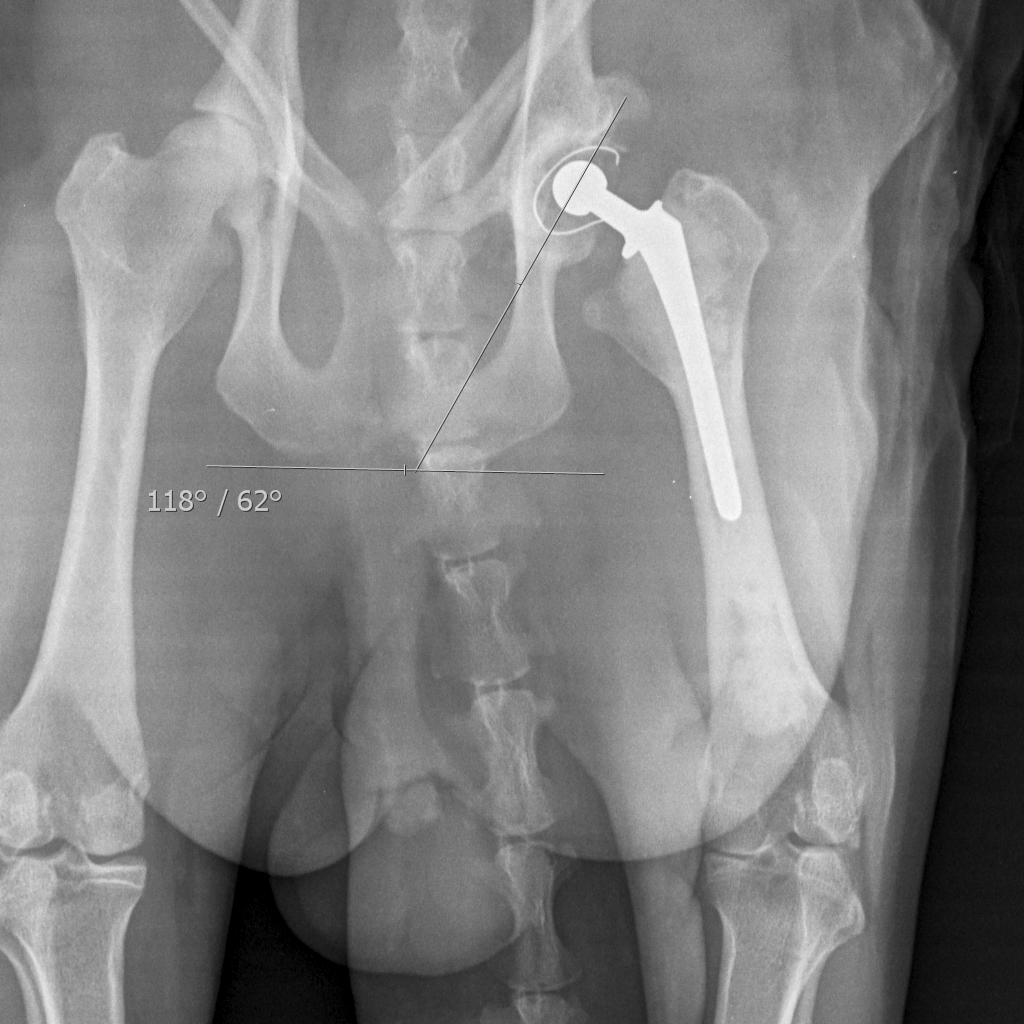 X-ray showing Talei's full hip replacement on ride side.
Tasmanian devils
Tasmanian devils are the world's largest surviving carnivorous marsupials. These nocturnal animals live for approximately 5-7 years in captivity. Sadly, devils are classified as endangered mainly due a rare contagious cancer called Devil Facial Tumour Disease (DFTD). DFTD has led to dramatic declines of Tasmanian devils. While confidence is growing that DFTD will not drive widespread extinction of devils in the wild, the species remains endangered and the low population means the species is more susceptible to other threats. The Save the Tasmanian Devil Program aims to work with research partners to gain knowledge in science and determine emerging priorities to restore and maintain a resilient wild devil population that needs limited management intervention.
Orana fulfils an important role as part of the Ambassador Programme by raising public awareness of the issues facing devils. Orana also supports the Programme by generating funds for devils in the wild. We have contributed towards radio collars to monitor wild devils and for the installation of innovative devices that help prevent devils becoming roadkill.
otter-ly delightful addititons to orana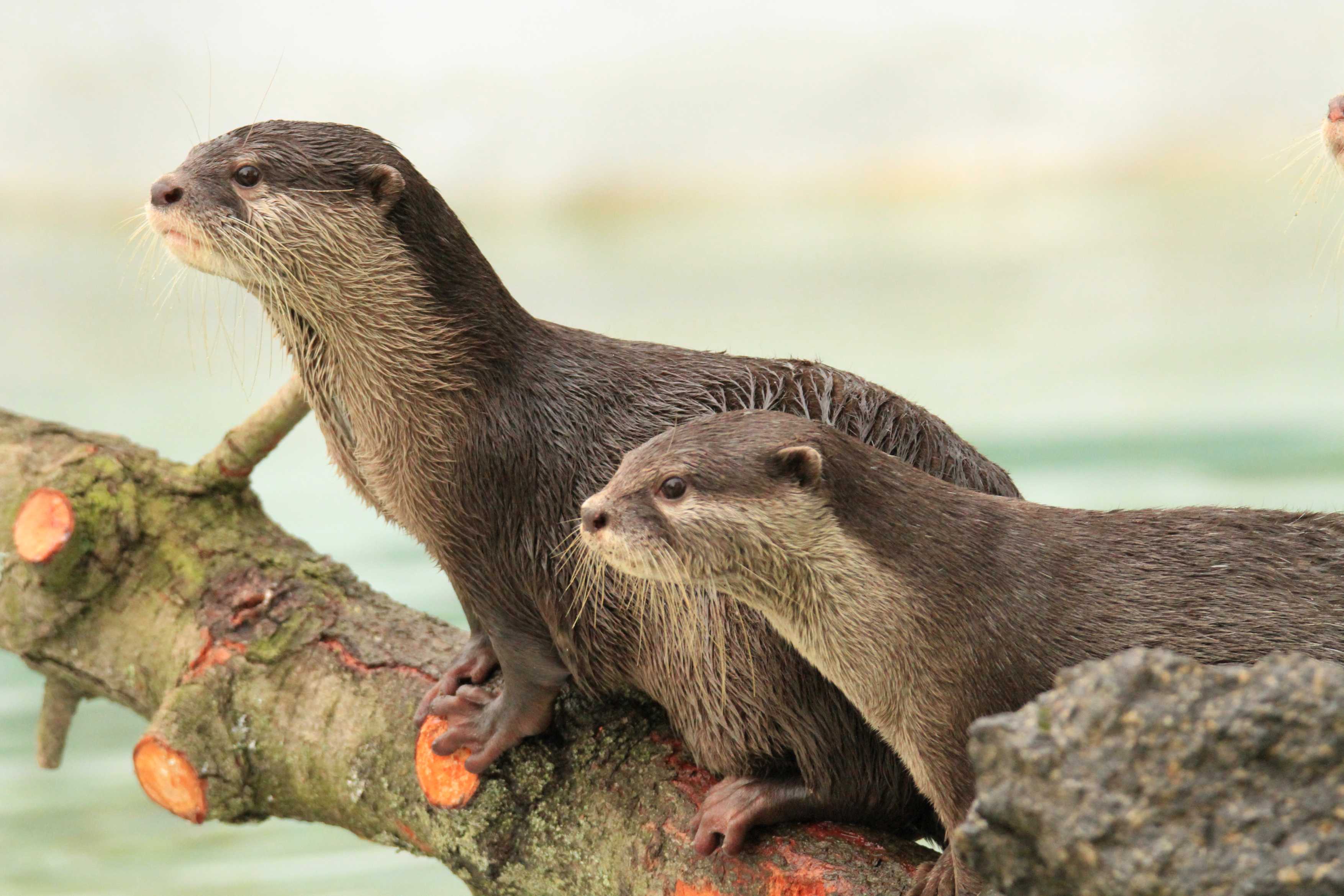 Five boisterous brothers are new to the zoo! Ikan, Bajak, Tiga (aged 3), Siak and Tuk (2) are Asian small-clawed otters and were transferred from Perth Zoo to Orana as part of the managed conservation breeding programme for these cheeky creatures. Tomorrow is their first full day on display to the public.
Lead Animal Keeper, Laura Ashton, says the new otters are delightful. "They are extremely busy boys, having the curiosity of a cat whilst being highly dextrous and nimble, able to manipulate objects in their hands. They become astounded by the smallest of things and love enrichment items. The boys sleep and nest together in the same space so we are greeted by a pile of otters in the morning! It will be so exciting to see them explore their new habitat."
"Our team is delighted to welcome otters back to Orana. Our last animals sadly passed away in 2016 due to old age. Since that time, we have been liaising with our zoo partners to make this transfer a reality. Some major upgrades have been completed to the exhibit in preparation for the highly anticipated return of these amazing animals."
Asian small-clawed otters are the smallest of all the otters. They are good indicators of the health of freshwater systems in which they live. If the water becomes polluted otters move to a cleaner source. Threats to the species include increasing pollution and habitat loss.
"Visitors will adore meeting the otters and it is great for our team to have another very positive addition to Orana", concludes Laura.
Five otter brothers the newest stars at Christchurch's Orana Wildlife Park | Stuff.co.nz
Watch: Adorable otters move into Christchurch's Orana Wildlife Park | Newshub
---
---
Delightful New Male Monkey at Orana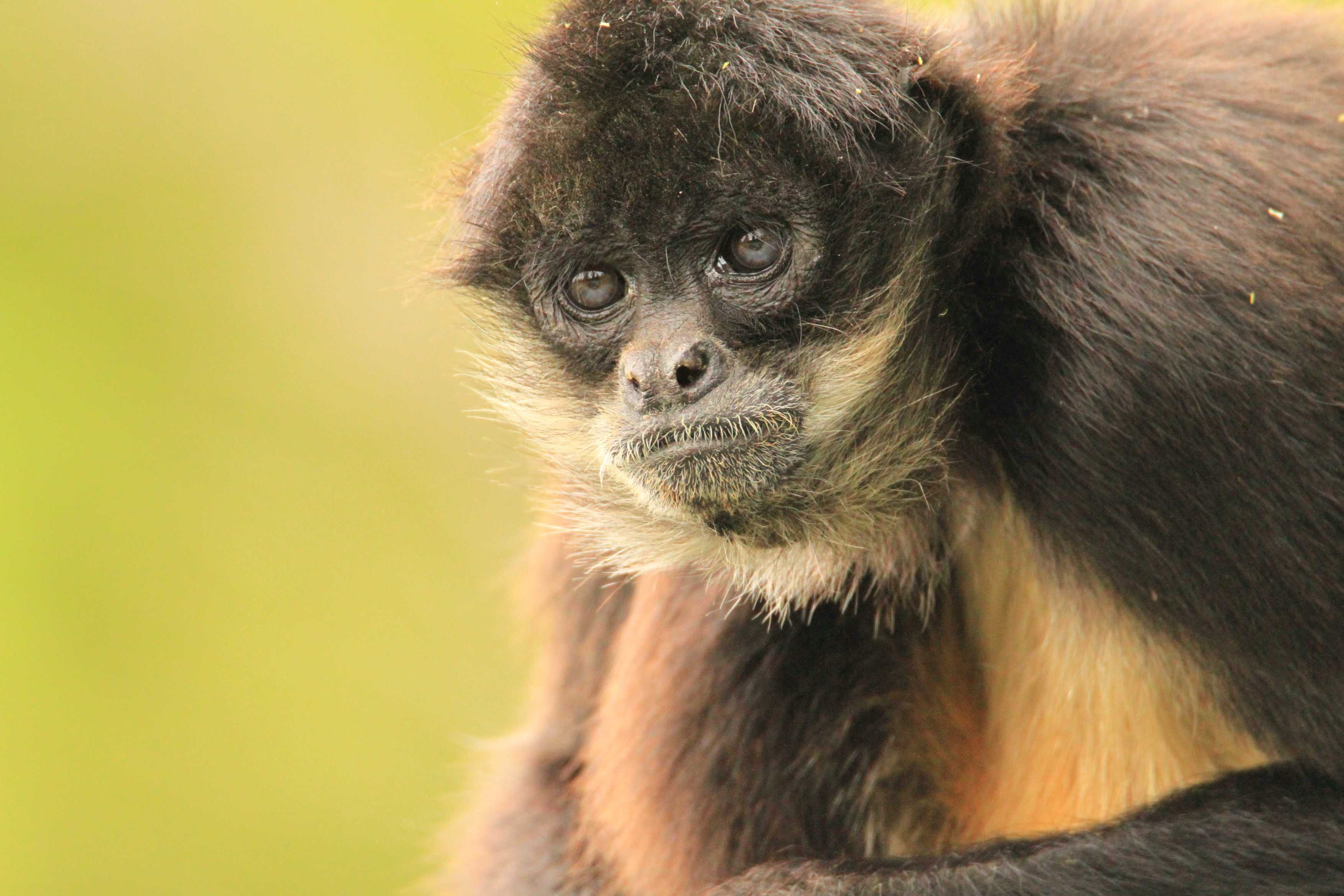 Introducing Orana Wildlife Park's newest bachelor – Tostada, a 23 year old spider monkey. He's 8kg of fur and muscle, dark and handsome (not so tall) and he's already working his magic on his four new girls.
Tostada was transferred from Hamilton Zoo last week as part of the managed regional breeding programme for this endangered species. He's settled in well to his new surroundings and has been fully introduced to Orana's four female monkeys today. The females gave a very warm welcome to their new male, which led to a speedy full introduction.
Exotic Species Manager, Rachael Mason, says: "he is a lovely boy. He and the girls are really cute together – we've seen lots of grooming each other which is a great sign."
Naturally, Park staff are hopeful of hearing the pitter patter of small monkey feet in the future - the last monkey born at Orana was in 2005.
Habitat loss is one of main reasons spider monkeys are endangered.
---
Pretty Kamili making friends at Orana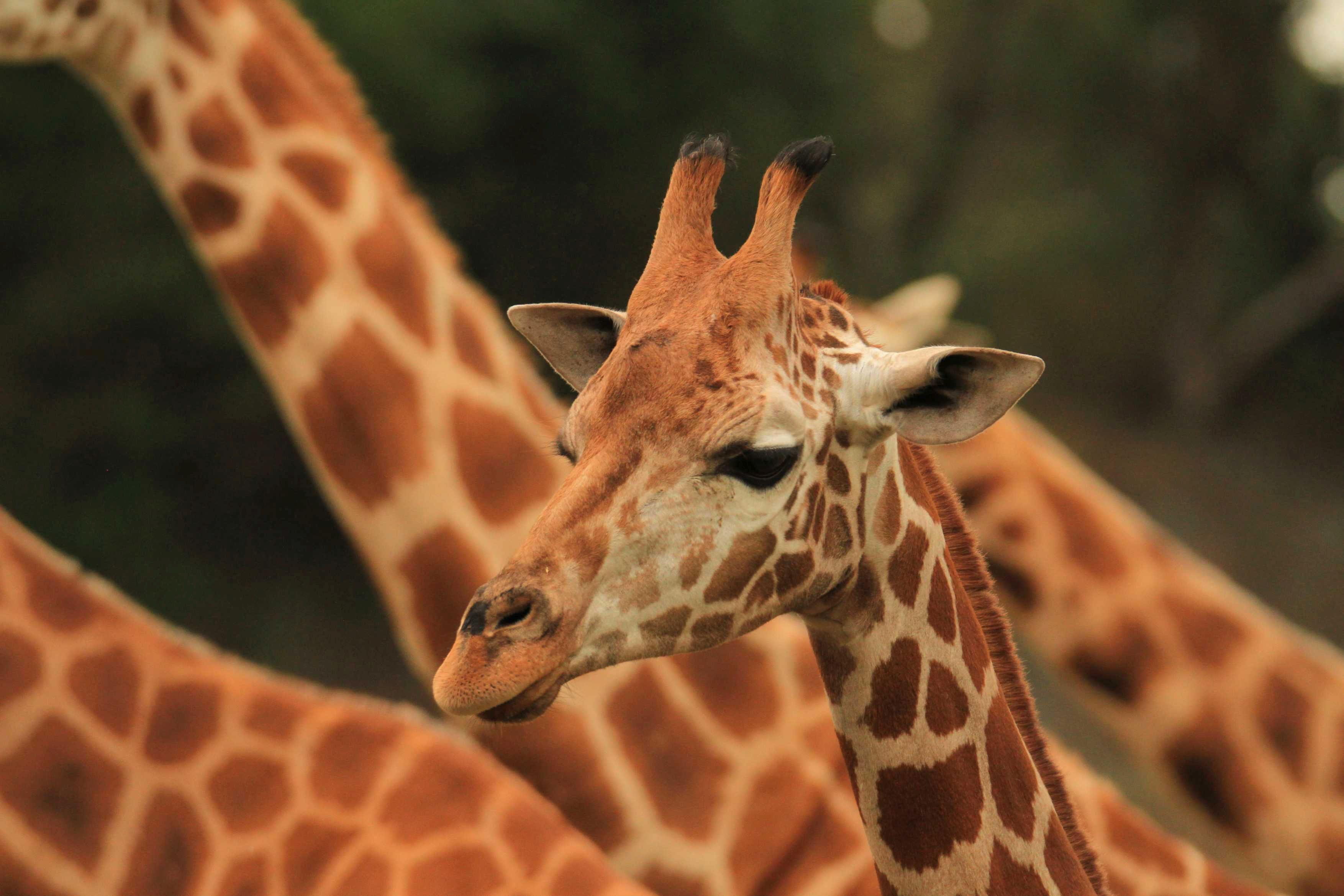 Kamili, a beautiful 20-month old female giraffe, arrived at Orana Wildlife Park last night. She was transferred from Perth Zoo, travelling almost 6,000km to Christchurch. She crossed the Nullarbor desert from Perth to Melbourne before embarking on a 7-day sea voyage to Lyttelton.
This morning, Kamili completed MPI checks and has now being fully introduced to Orana's herd of three females and our young (unrelated) male named Mabuti. She will be in quarantine for the next three days but fully visible to Park visitors.
Orana's Manager of Exotic Species, Rachael Mason says: "we are delighted to welcome Kamili to Orana – she is a very pretty giraffe and a confident young lady. We are thrilled with how well she has settled in. The planned introduction to our four giraffes went brilliantly and I'm delighted we now have a herd five of these majestic gentle giants."
Kamili has ancestral ties to Orana Wildlife Park as her father, Armani, was born here in 2002! Perth Zoo Senior Keeper, Kaelene McKay, travelled with Kamili to Christchurch. "Kamili has now completed the reverse trip to the journey her father undertook many years ago; she has returned to family."
"I'm delighted how well she has handled the move. This transfer is a great example of how zoos work collaboratively together. This morning, Kamili marched straight out of the crate and is now making friends with her new herd – it's like she's been here forever!"
Kamili was transferred to Orana as part of the managed regional breeding programme for this increasingly threatened species. Giraffe populations continue to decline due to habitat loss and poaching.
"Obviously Kamili is too young to breed at this point, and our bull Mabuti is only a young man. This transfer was completed with the aim that in time Kamili will contribute to the preservation of her species. The last giraffe born at Orana was in 2012 - Harriet, who still lives here and is in fact Kamili's auntie" concludes Rachael.