---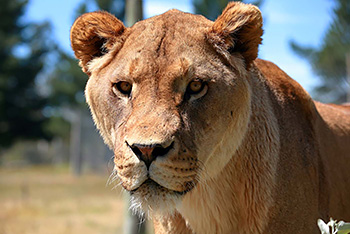 Lion Den Experience
Attention thrill seekers! Orana's Lion Den Experience is a thrilling opportunity to go behind the scenes into our lion dens with our expert carnivore keepers. Meet our majestic lions closer than ever before and learn about how we work with these incredible big cats. Witness the size and power of these amazing animals and see just how large their teeth and claws really are.
Your behind the scenes tour may involve a training session for medical checks, lions slobbering over snacks or watching them interacting at an enrichment session.
Take in the awe inspiring sights (and smells) of the "King of Beasts" in this exciting up close encounter. This is a must do experience whilst in Christchurch!
BOOKINGS FOR DECEMBER 2023 ARE OPEN
How to book
Tickets can only be reserved if they are paid for in advance. To make a booking please contact us directly at: info@oranawildlifepark.co.nz or +64 3 359 7109.  Note that the Lion Den Experience is subject to change without notice.
Important: If you are interested in booking a Lion Den Experience for today or tomorrow, please phone rather than email to ensure your best chances of securing a place!
Conditions of the Lion Den Experience
-          This experience operates at 3.00pm, Tuesday, Thursday, Saturday & Sunday (subject to availability).
-          10 tickets are available per session.
-          $69.50 per person (additional to Park entrance).
-          All visitors taking part in the Lion Den Experience must be 10 years or over.
-          Children (15yrs and under) must be accompanied by a paying adult.
-          Participants must not have any flu-like symptoms (including a cough, high temperature, shortness of breath, COVID-19 or other associated signs of being unwell).
-          Please advise us beforehand of anything that may influence your participation in the Lion Den Experience. All participants must be able to stand (unless in a wheelchair) for the full experience, please contact us in advance if you are unsure.
-          Tickets can be purchased at reception before 2.30pm (on a first in first served basis).
-          All bookings are non-refundable and non-transferable.
-          Please arrive at the Park at least one hour prior to the Den Experience time to ensure you have time to check in and make your way to the departure point. The Den Experience will proceed at the set time and we are not be able to offer transfer or refund for late arrivals.
-          Participants must adhere to all safety instructions at all times. Failure to follow instructions will result in the encounter coming to an immediate end. No refunds will be offered.